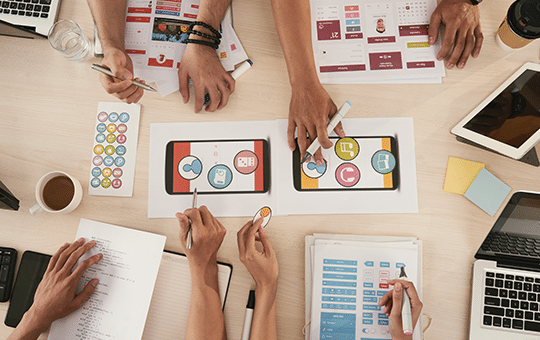 Mobile Application Design in Atlanta
Our beautiful world deserves fine-looking apps. So, we take app design Atlanta to the very next level with our eye on UI intricacies to deliver engaging experiences to our clients and their users.
We Attain App Design Brilliance, Always
UI and UX are frequently confused with being the same. They are not, but there's a trustworthy relationship between both of them. All our Atlanta app design experts understand this complicated relationship and know how to attain the ideal UX. Call it our passion for perfection or anything else, when we design any app, we are completely into it. The extensive experience and unmatched skills back our developers and designers in their endeavor, and the result is nothing less than sheer brilliance.
Any user can be either turned on or let down by the app's UI only. We make sure that the UI of your app doesn't become the reason for the users' dismay. Our designers are mad about pixels, and they push them to the completely unexplored areas, creating an excellent design in the bargain.
Follow The Right Strategy To Design Any App
Pushing app design Atlanta to back foot could be an amateurish and grave mistake on your part. Investment in Atlanta app design will result in better user engagement, and in turn, it will enhance your ROI.
When you make great designs early on, you're also paving a smooth way to simple future updates and reduced costs of maintenance and support. Designing for your planned audience makes sure that you engage them fully.
The design process that we follow is interactive and innovative. We don't just see the app ideas as simple wireframes; rather, we try to envision it and make prototypes that get us closer to the actual design. We put life to app ideas by just making their designs intuitive to improve the UX it provides.
We love to consist of our customers during the design procedure, thus making the procedure highly inclusive and collaborative.